< Back to Map of the month
Attitudes on the acceptability of violence towards foreigners
Date of publication: 17 March 2017
The March 2017 Map of the Month uses data from GCRO's 2015/16 Quality of Life IV (QoL) survey to show the proportion of South Africans in each ward who express intolerant views towards foreigners. One question in the survey asks respondents whether they agree or disagree with the statement 'it is OK to use violence to get foreigners to leave'. The 2015/16 QoL dataset contains 30 002 respondents of whom 93% are South African-born. Of these South African-born respondents, a small minority, 3,6%, agreed with this statement.
Less than 4% of people saying that violence towards foreigners is acceptable is a small minority. In many wards – those shaded yellow – there were no respondents who felt that violence towards foreigners was OK. And even in the darker shaded wards, respondents with violent attitudes is a relatively small proportion – at worst, one in five people.
That said, extrapolating out from our sample to the whole adult population, there are around 300 000 people in Gauteng who would say that this violence is acceptable, and some wards have higher concentrations of such people.
It is important to qualify this finding by noting that there is a complicated relationship between attitudes expressed in the context of a survey and actual violence. A respondent may agree with this statement but may have no intention of perpetrating violence. By contrast, a person may disagree with this statement (for example, because they recognise that such views are socially unacceptable) but may, in practice, be inclined to participate in, or condone, violence.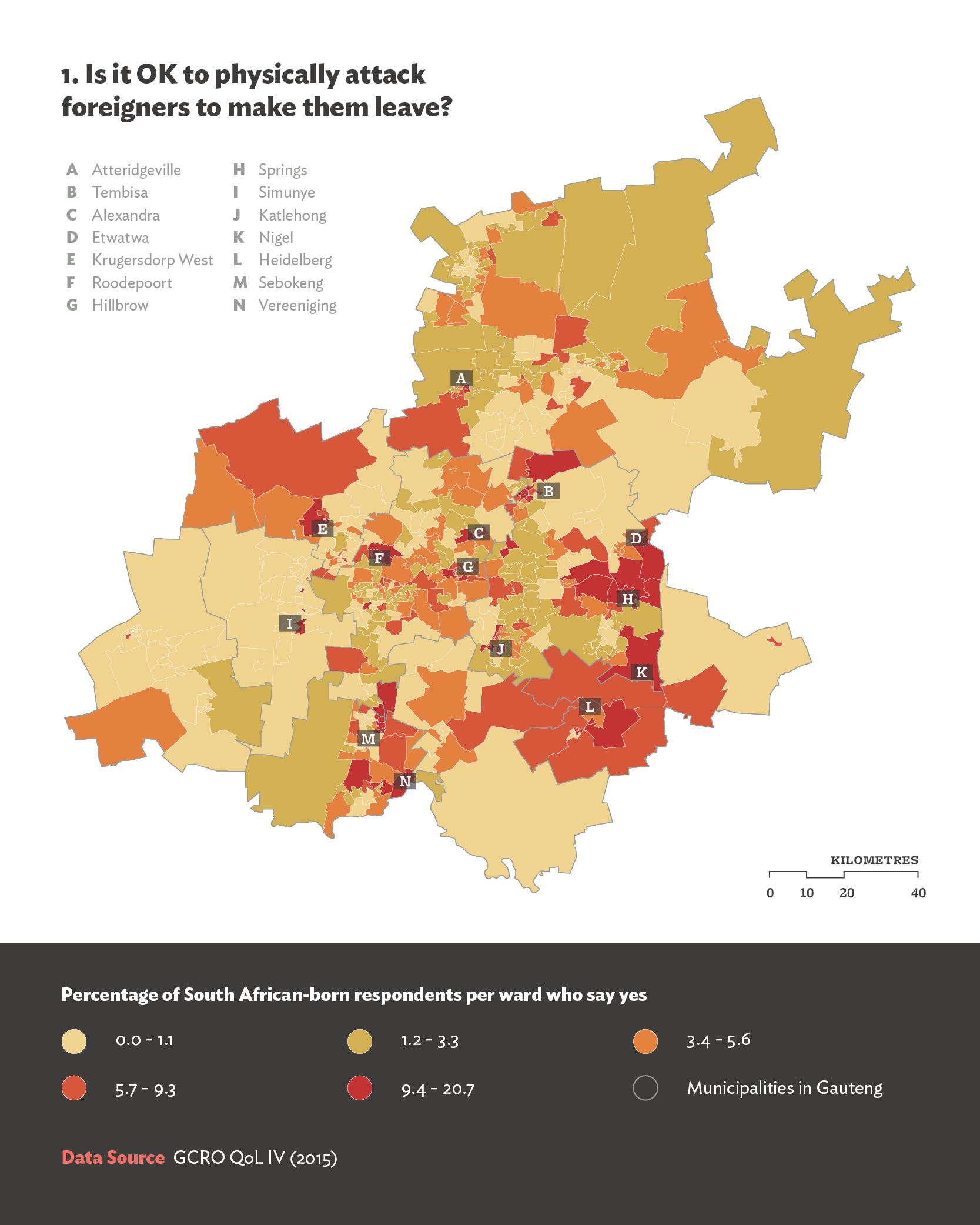 Respondents in the GCRO's 2015 Quality of Life survey were also asked which one of the following three views described how they felt about foreigners living in Gauteng.

Gauteng should be for South Africans only. All foreigners must be sent back to their countries.
Foreigners living in Gauteng are alright, but only if they have legal permission from the government.
A lot of foreigners came to work in South Africa for poor wages under apartheid. We all suffered under the same system. They should be allowed to stay.
Nearly a quarter of South African-born respondents in Gauteng felt that all foreigners should be sent home, while only 18% believed that foreigners should be allowed to stay. The majority of people (58%) believed that only legal foreigners should be allowed to stay. The graph below shows a summary of the results for each municipality and for the province as a whole. Residents in the Sedibeng District Municipality (Lesedi, Emfuleni and Midvaal municipalities) are by far the most likely to want to send foreigners home while South African born respondents in municipalities on the West Rand seem the least likely to want to send foreigners home.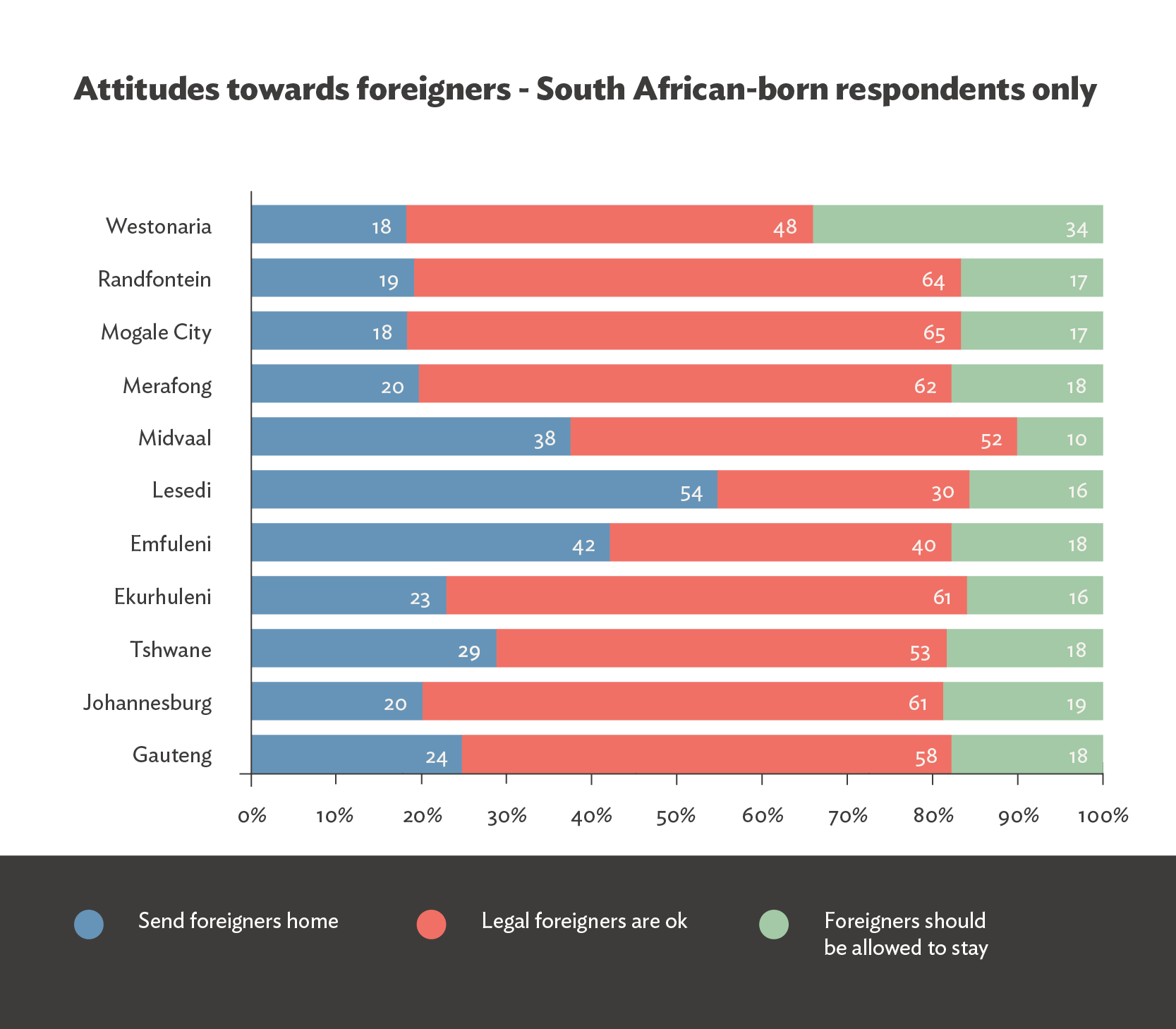 The concentration of harsh attitudes towards foreigners in the south of Gauteng is clearly visible on a ward level as well (Map 2). The darker shading highlights wards where larger proportions of respondents felt that foreigners must be sent home, regardless of whether or not they are in Gauteng legally. In parts of Heidelberg and Vereeniging 7 out of 10 respondents felt that all foreigners should be sent home. Hammanskraal, Pretoria Central, Atteridgeville, Germiston and Sebokeng also presented as areas of higher intolerance towards foreigners.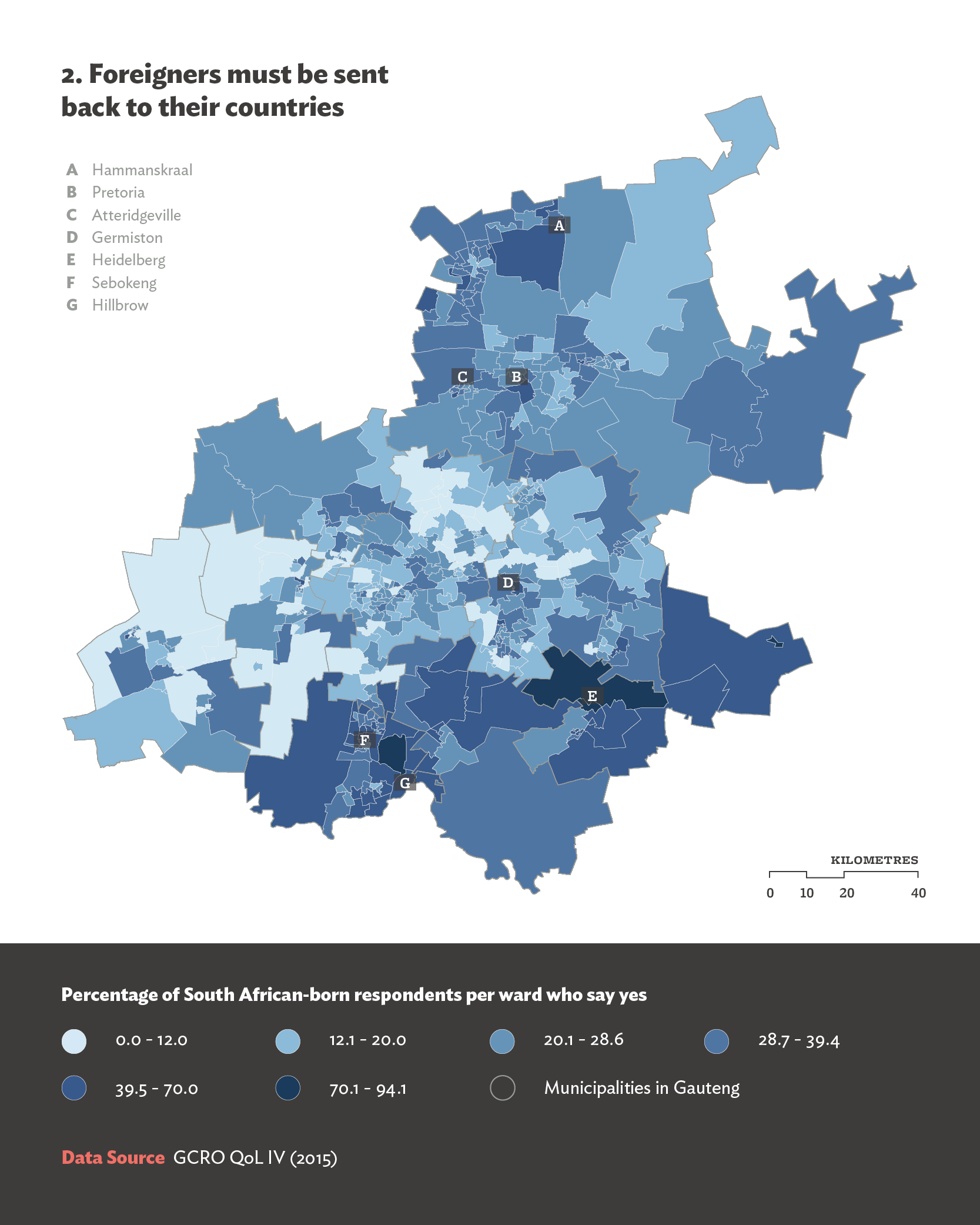 Violence against foreigners remains a prominent concern in our current context. The findings discussed here do however show that violent attitudes against foreigners are held by a minority of respondents and are spread in small concentrations throughout the province. Our next Map of the Month will consider attitudes related to homophobia and will highlight a different concern over the 14% of respondents who believe that violence directed at gay and lesbian people is acceptable.