GCRO 2020/21 Annual Report
This Annual Report covers the April 2020-March 2021 financial year. This period covers three important events in the life of the organisation. First it marks the start of the COVID19 pandemic, which dramatically transformed not only the way GCRO does work
read more
collapse
| download output
Date of publication:
December 2021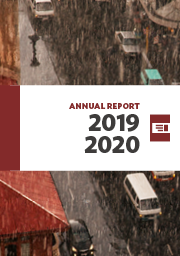 GCRO 2019/20 Annual Report
This Annual Report covers the 2019/20 financial year, the final full year in the GCRO's five year strategic plan - approved in late 2014 - for the period 2015/16 to 2019/20. This was a year of major strategic planning for the organisation, as we took stock of the last five years of work, and developed new plans for the 2020/21 to 2024/25 period. GCRO also saw major introspection on it's organisational structure, working practices and production processes, and identified a host of new innovations. In the last month of the financial year COVID-19 hit South Africa, bringing a key new point of focus to GCRO's work..
read more
collapse
| download output
Date of publication:
January 2021