< Back to Map of the month
Gauteng going dark
Date of publication: 29 July 2020
The COVID-19 pandemic in South Africa has had far reaching impacts on the society and the economy. A national disaster was declared on 15 March 2020 and by 26 March 2020 strong restrictive measures were put in place to manage the spread of the disease. The tightest restrictions were in place for lockdown level 5 which lasted from 26 March 2020 until the end of April 2020. During level 5, routine movement was restricted, only essential workers were permitted to travel and only essential trips were allowed, like purchasing food and medicine. The country's borders were closed; interprovincial movement banned; all gatherings except for small funerals were prohibited and schools, restaurants, and non-essential businesses closed. With movement restricted, activity was largely confined to domestic spaces. From 1 May 2020 lockdown restrictions began to ease and the national alert level was lowered to level 4, with people permitted to exercise during the day, limited operation of public transport continued and more people returned to work. On 1 June, restrictions were further eased to level 3. At level 3 there has been opening of the economy albeit under tightly controlled conditions and a nighttime curfew remains in place.
Our September 2019 Map of the month used satellite imagery to map the intensity of light at 2am across the Gauteng City-Region (GCR) and provided an indication of economic activity. This month we revisit night lights data to see if nighttime satellite images of the GCR can show the impact of lockdown. We compare light intensity from before lockdown began (March 2020) with light intensity during lockdown level 5 (April 2020). We then compare how it changed from lockdown level 5 to lockdown level 4 (May 2020). Lockdowns in cities elsewhere in the world have been analysed using night light intensity.
Night lights data provides one way to understand people's movement and activity changes during lockdown. Yet, not all changes to night lights can be attributed to changes in human activities. Factors like weather conditions, stray light (wavelengths that are detected by the sensor other than what was intended) and air quality need to be accounted for. While we have taken care to select available satellite images for nights with limited cloud cover and at similar moon phases, it has not been possible to control for variations in air pollution. Air pollution can inhibit the sensor's ability to accurately measure light intensity. Improved air quality due to less pollution during this time will also result in more light reaching satellites and will have a brightening effect.
Map 1 shows the change in nighttime light intensity between 19 March 2020 (before lockdown) and 15 April 2020 (lockdown level 5). Across the GCR there is a noticeable dimming of lights during lockdown level 5. This dimming is particularly visible in areas such as Langaville, Beyers Park, Akasia and Soshanguve. Light intensity also dimmed significantly in industrial locations and along major roads. This reflects the closure of industries during lockdown and a reduction in movement across Gauteng. Many residential areas (like Soshanguve and Soweto) show an overall dimming of lights but also small areas of increased light intensity. This may be due to more people staying home in these areas or an artefact of improved air quality. Similar trends of dimming night light intensity have been seen in cities in China and India.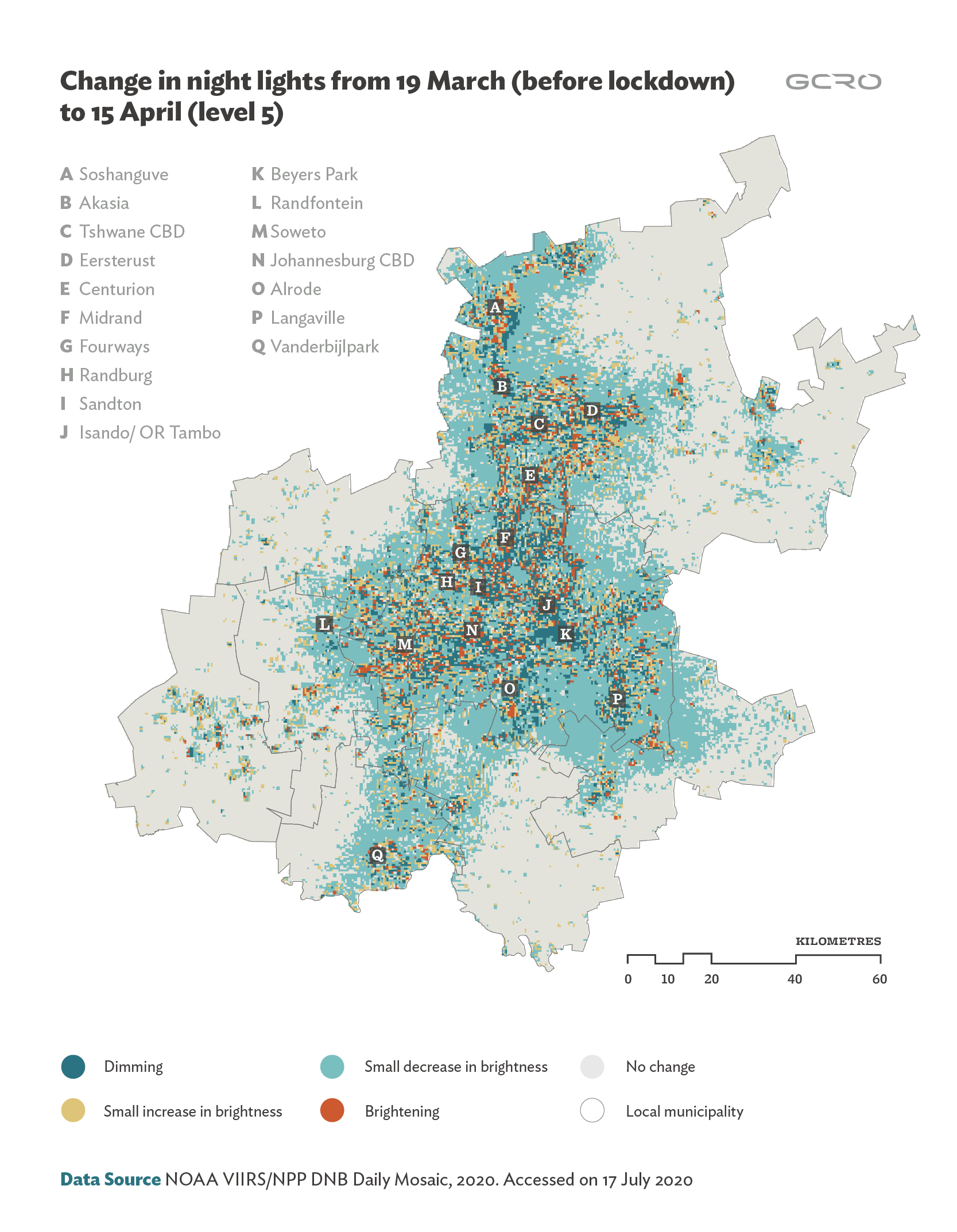 Map 1
Map 2 shows the change in light intensity between 15 April 2020 (lockdown level 5) and 26 May 2020 (lockdown level 4). An overall increase in brightness across the GCR is noticeable during this period as restrictions on movement and activity were gradually eased. However, some areas still showed a dimming in light intensity, for example along major roads.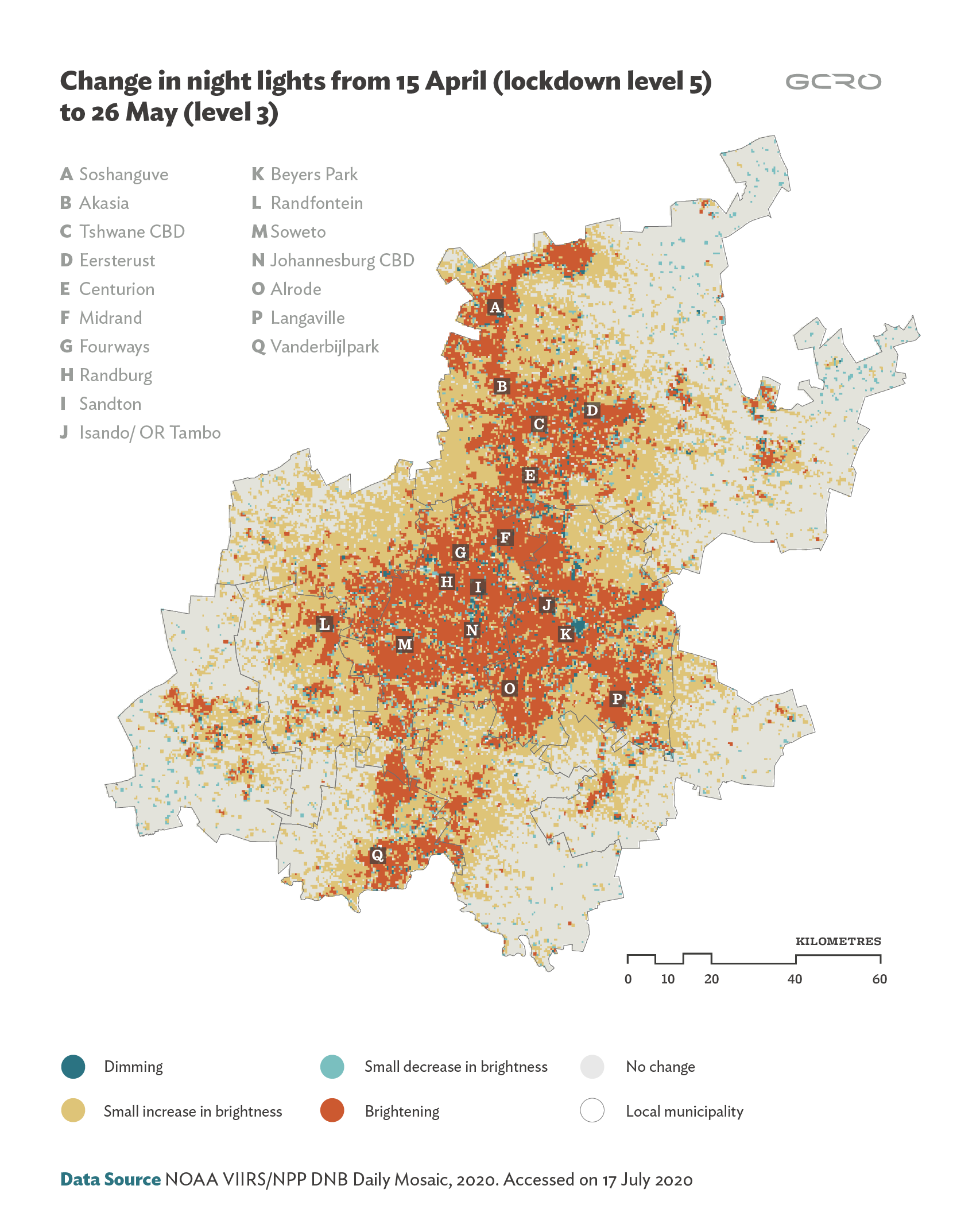 Map 2
As we are well aware from first-hand experience, the various lockdown levels had a profound effect on society and the economy. Variations in night light intensity show that these changes were even visible from space. COVID-19 lockdown restrictions had a noticeable effect on nightlight intensity, dimming in some places, and brightening in other places. The initial dimming in many areas has turned to increasing brightness once commercial activity was allowed to resume and restrictions on movement were eased.
DATA USED
The satellite imagery used was derived from the Day-Night Band sensor supported by the Suomi National Polar Partnership satellite flown by NASA and NOAA. It has a resolution of 500m pixels that provide data on visible and near-infrared light present at night.
Edits and input: Richard Ballard, Graeme Gotz, Christian Hamann, Julia de Kadt
Recommended citation: Naidoo, Y. and Maree, G (2020) 'Gauteng going dark: How nighttime light intensity changed during early stages of lockdown, Gauteng City-Region Observatory, July 2020.