< Back to Books
The Changing Space Economy of City Regions: The Gauteng City-Region
Date of publication: 9 November 2017
This volume's central theme is city-regions and their changing space economies in the global South. These are regions that are witnessing new scales of urbanization, and are integrating into global economic relationships, transportation infrastructures and, increasingly, new information and communications technologies. These regions also witness many complex government arrangements, features that shape these regions immensely.
This volume focuses specifically on the Gauteng City-Region (GCR), the largest agglomeration in a country and on a continent facing a myriad of development challenges. The GCR contributes a third of the South African national economy and a tenth of Africa's gross domestic product (GDP).
This book further offers the GCR as a microcosm of the national economy in that it displays significant place-based variations in the intensity and character of economic activity. On the one hand, some parts of the GCR are enjoying sustained growth under the effects of agglomeration economies; on the other, some areas show large numbers of people living in poverty with limited access to economic opportunities.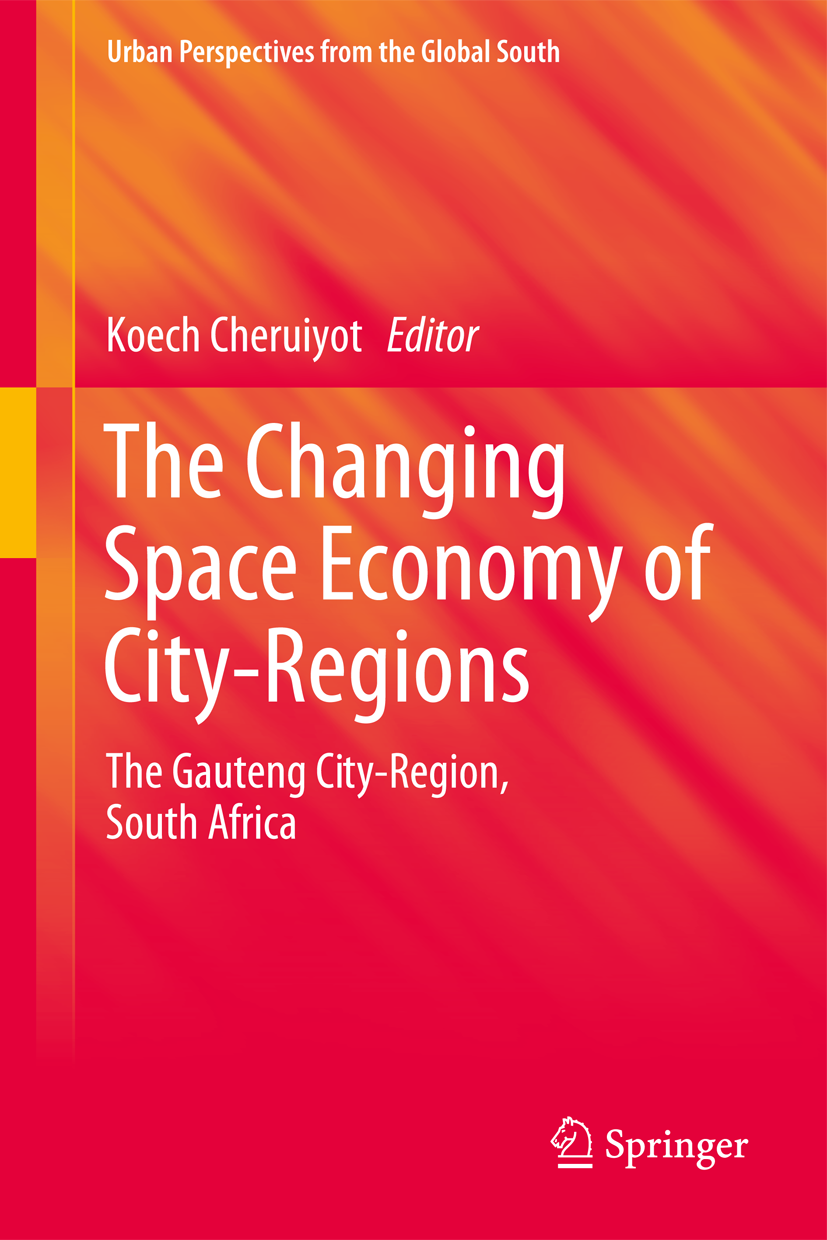 The volume is timely in many respects. Its discussions, exploring a number key development processes, supplement the space economy literature and contribute substantially to policy debates around the GCR. The findings also offer potential learning for policy development in other city-regions, especially in the global South. Across the book's various chapters, readers, including planners and policy makers in governments, undergraduate and graduate students and scholars in economic geography, are invited to explore:
Theoretical, conceptual, empirical, and methodological issues about the space economy in Gauteng and its surroundings;
Economic geography debates relating to economic regions/city-regions;
Discourses on interrogating several internal and external drivers of change in the context of global-economic dynamics; and
Necessary lessons regarding which economic drivers the GCR should focus on going forward.
Table of contents:
Chapter 1: City-Regions and Their Changing Space Economies (Koech Cheruiyot)
Chapter 2: The Economic Drivers of Urban Change in the Gauteng City-Region: Past, Present, and Future (Mfaniseni F. Sihlongonyane)
Chapter 3: Assessing the Gauteng City-Region's Global Presence and Positioning through Current Global-City Measures (Koech Cheruiyot, Anisa Desai and Ezekiel Lengaram)
Chapter 4: Importance of Industrial Clusters and Inter-industry Linkages for Regional Policy in the Gauteng City-Region (Rainer vom Hofe and Koech Cheruiyot)
Chapter 5: The Evolution of Manufacturing in the Gauteng City-Region: From De-Industrialization to Re-Industrialization? (Sam Ashman and Susan Newman)
Chapter 6: Unpacking the Changing Economic Geography of Gauteng's Tertiary Sector (Christian M. Rogerson)
Chapter 7: Locating the Informal Sector in the Gauteng City-Region and Beyond (Sally Peberdy)
Chapter 8: Testing Economic Growth Convergence and Its Policy Implications in the Gauteng City-Region (Koech Cheruiyot and Darlington Mushongera)
Chapter 9: Revitalizing Gauteng City-Region Township Economies through Value Chain Development (Phindile Ngwenya and Precious Zikhali)
Chapter 10: Dualisms in the Gauteng City-Region: Summary and Implications (Koech Cheruiyot)
The book is available online here.