< Back to News
Seminar Series: Re-imagining Measurements of Sex, Gender and Sexuality in Social Surveys
GCRO

Date of publication: 15 September 2022

The Gauteng City-Region Observatory (GCRO), in collaboration with the Centre for Sexualities, AIDS, and Gender (CSA&G) and Social Impact Insights Africa (SIIA) is launching a four-part online seminar series, running biweekly from 6 October to 17 November 2022, to establish the importance of nuancing the measurement of sex, gender and/or sexuality in social survey research conducted in South Africa.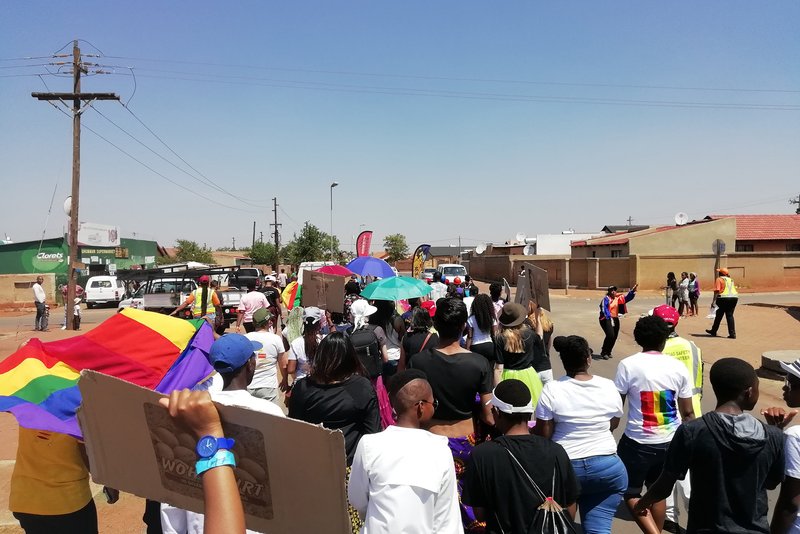 "We're queer, we're here, we're everywhere"- 2018 Soweto pride (photo credit: Richard Ballard).
The seminar series brings together researchers from various disciplines, official statistics units, government, civil society, activists and LGBTIQ+ organisations to unpack the value and challenges of using queer lenses in social survey development. With comparative inputs from renowned speakers from South Africa and other countries on the African continent, the seminar series will reflect on survey design in a range of contexts including the policy and advocacy intent of each study; national and institutional social surveying capacity; and varying legal conditions for different expressions of sex, gender and sexuality.
The themes and dates for all sessions are as follows:
Mind the Data Gap: LGBTIQ+ Inclusion in Social Surveys and the Impact on Policy
06 October 2022, 11:00 - 12:30 SAST (09:00-10:30 UTC)
Capturing the Complexities of the Entire Population: LGBTIQ+ Specificities
20 October 2022, 11:00 - 12:30 SAST (09:00-10:30 UTC)
Collecting Social Data on Sex, Gender and Sexualities: Experiences in Field
03 November 2022, 11:00 - 12:30 SAST (09:00-10:30 UTC)
Research-Policy Interface: Production, Dissemination and Use of LGBTIQ+ Data
17 November 2022, 11:00 - 12:30 SAST (09:00-10:30 UTC)
To join virtually, click here to register and attend.
To read more about Queering Social Survey Research, access the project page here:
For queries or more information, contact:
Sthembiso Pollen Mkhize (GCRO)
sthembiso.mkhize@gcro.ac.za
GCRO Information and Queries
info@gcro.ac.za