< Back to News
GCRO launches 5th Quality of Life Survey (2017/18)
GCRO

Date of publication: 21 November 2018
On Tuesday 13 November 2018, the Gauteng City-Region Observatory (GCRO) launched the results of the 5th biennial Quality of Life Survey (2017/18) at a high-profile event held at the University of Johannesburg's Arts Centre Theatre.
Over 200 invited guests and media attended the launch. Among the attendees were the Gauteng Premier David Makhura, who also responded to the results, and the Gauteng MEC from Finance and e-Government Barbara Creecy. Proceedings were opened with welcomes from Professor Daniel Mashao, Executive Dean of Engineering and the Built Environment from the University of Johannesburg; Professor Zeblon Vilakazi, DVC Research from the University of the Witwatersrand and Chair of the GCRO board; and Dr Rob Moore, GCRO's Executive Director.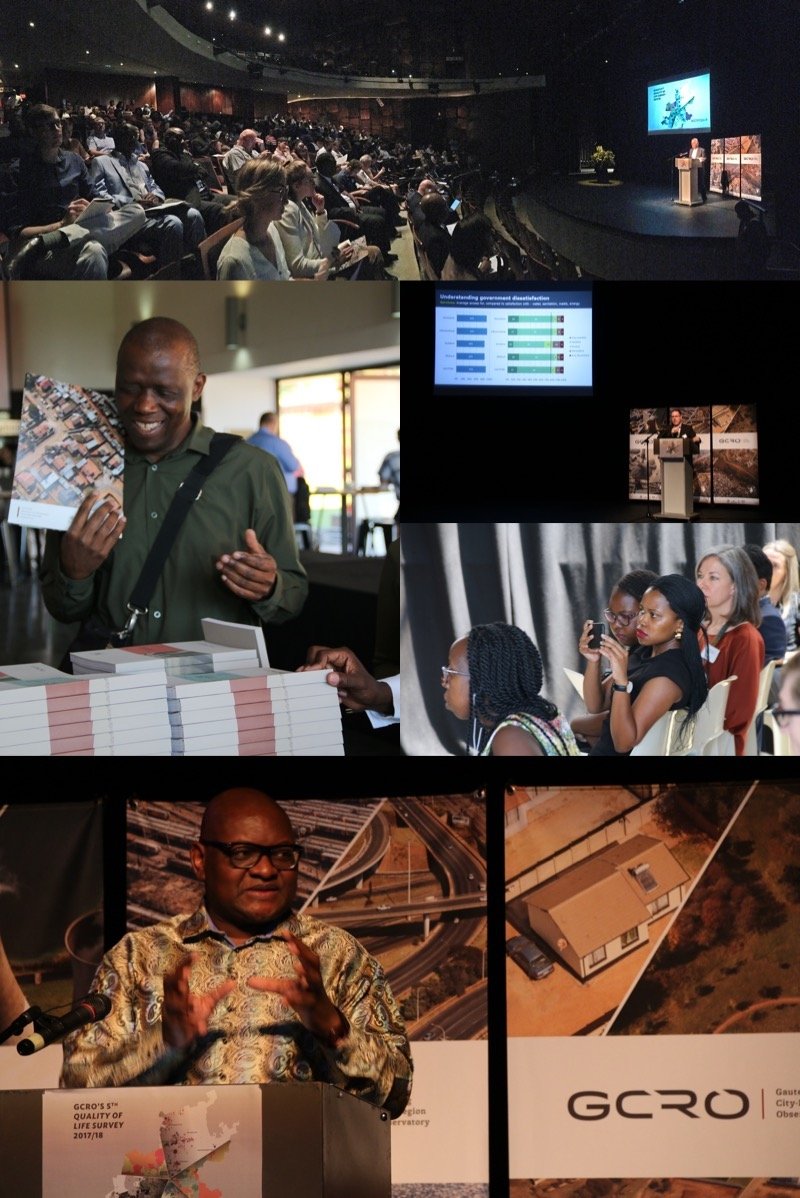 In his response to the main findings, which were presented by the GCRO's Research Director Graeme Gotz, Premier Makhura praised the survey, saying that it "has become one of the most comprehensive and reliable instruments to measure citizens' satisfaction and perceptions on governance, service delivery, socioeconomic development and the quality of life among the people of Gauteng."
The data provided by the Quality of Life Survey is integral to the development of evidence-based policy in the city-region. The Premier went on to say that "We appreciate the work done by the GCRO. These results are going to inform our decisions and policies. We will now use these results to improve the quality of life of people of Gauteng and change the perceptions that people have of government."
The launch presentation and key insights from the data are available here. The QoL V (2017/18) dataset will be made available for non-commercial use in the coming months.
The launch of the results has received extensive media coverage. A selection of this coverage is detailed below:
Op-eds
Moore, R. (2018) Evidence-based governance is essential to improving quality of life. Daily Maverick. 13 November 2018.
Lde Kadt, J., Parker, A., Culwick, C. (2018) Life in South Africa's economic hub is improving – but big challenges remain. The Conversation. 13 November 2018.
Selection of online articles
The Daily Maverick 'Slim standard of life upgrade for Gautengers', 13 November 2018
Politicsweb 'Quality of Life improving in Gauteng- GCRO', 13 November 2018
EWN 'Study: Slight increase in Quality of Life in Gauteng', 13 November 2018
City Press 'Despite crime, unemployment and drugs, quality of life is improving in Gauteng', 13 November 2018
Creamer Media's Engineering News 'Quality of life for Africans low in Gauteng- survey', 14 November 2018
Business Day 'Quality of Life in Gauteng improves, survey finds', 13 November 2018
Mail & Guardian 'Gauteng quality of life increases despite deepening inequality', 13 November 2018https://www.news24.com/citypress/news/despite-crime-unemployment-and-drugs-quality-of-life-is-improving-in-gauteng-20181113https://www.news24.com/citypress/news/despite-crime-unemployment-and-drugs-quality-of-life-is-improving-in-gauteng-20181113https://www.engineeringnews.co.za/article/quality-of-life-for-africans-low-in-gauteng-survey-2018-11-14/rep_id:4136https://www.news24.com/citypress/news/despite-crime-unemployment-and-drugs-quality-of-life-is-improving-in-gauteng-20181113