< Back to News
Dialogue on State of South African Municipalities
GCRO

Date of publication: 28 July 2022
The SA Cities Network and the SA Local Government Association (SALGA) held an All-of-Society Dialogue on the State of SA Cities at the Sandton Convention Centre on 14 July 2022. The CEO of the Cities Network, Sithole Mbanga, said that their recently released State of the Cities Report established four key insights: cities are growing and have maintained delivery, but challenges remain; development progress is limited and outcomes are mixed; cooperative governance and all-of-society approaches are key and require improvement; and related governance concerns still need to be address.
The Executive Director of the GCRO, Rashid Seedat, presented the results of the Quality of Life 6 survey and focused on the performance of all three spheres of government. The latest iteration of the survey painted a picture of poor service delivery performance and declining levels of trust in government.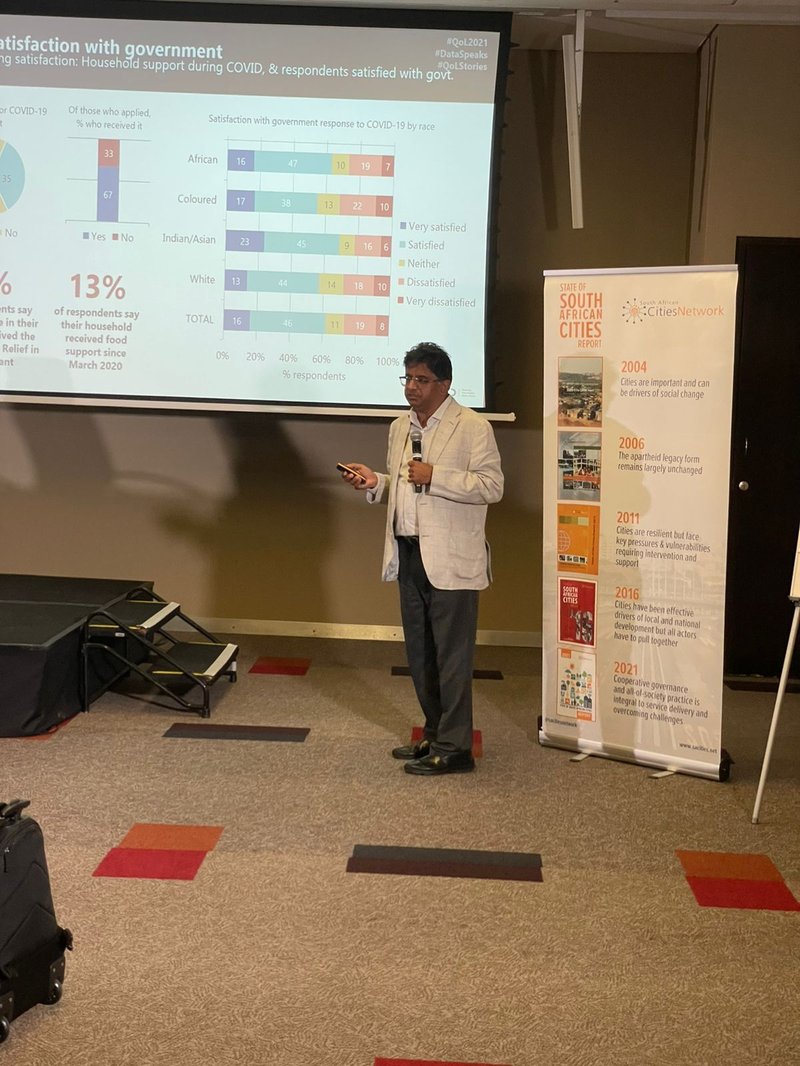 GCRO Executive Director, Rashid Seedat presenting insights from the Quality of Life 6 survey.
This was followed by a uniquely facilitated panel discussion by The Barefoot Facilitator, Ms Rehana Moosajee. The panel included Josiah Lodi from the Gauteng department of Urban Planning and COGTA, CEO of the well-known NGO, Fred Kusambiza-Kiingi and Mr Seedat of the GCRO. A range of proposals were made to address the shortcomings of local government that will be compiled by the host organisations.