< Back to Interactive Data Visualisation
Quality of Life V (2017/18) survey viewer
Date of publication: 23 June 2021
Access the new QoL V (2017/18) survey viewer by clicking here.
GCRO launched the results of the Quality of Life V survey (2017/18) in November 2018. The biennial Quality of Life (QoL) survey, first conducted in 2009, measures the quality of life, socio-economic circumstances, attitudes to service delivery, psycho-social attitudes, value-base and other characteristics of the GCR. It serves as a tracking and diagnostic tool, affording a rich information resource for policy makers and the public wanting to see where progress is being made, and where concerns remain.
In order to facilitate broader access to QoL survey results, at a variety of spatial levels, the GCRO has partnered with OpenUp, to develop the QoL V (2017/18) viewer. The tool highlights key findings from the QoL V survey in an intuitive and easy to navigate web application. The tool also allows users to focus on certain geographic areas of interest and see the results for a selection of variables for that area. The QoL V (2017/18) viewer includes two main sections, the Rich Data view and the Data Mapper view.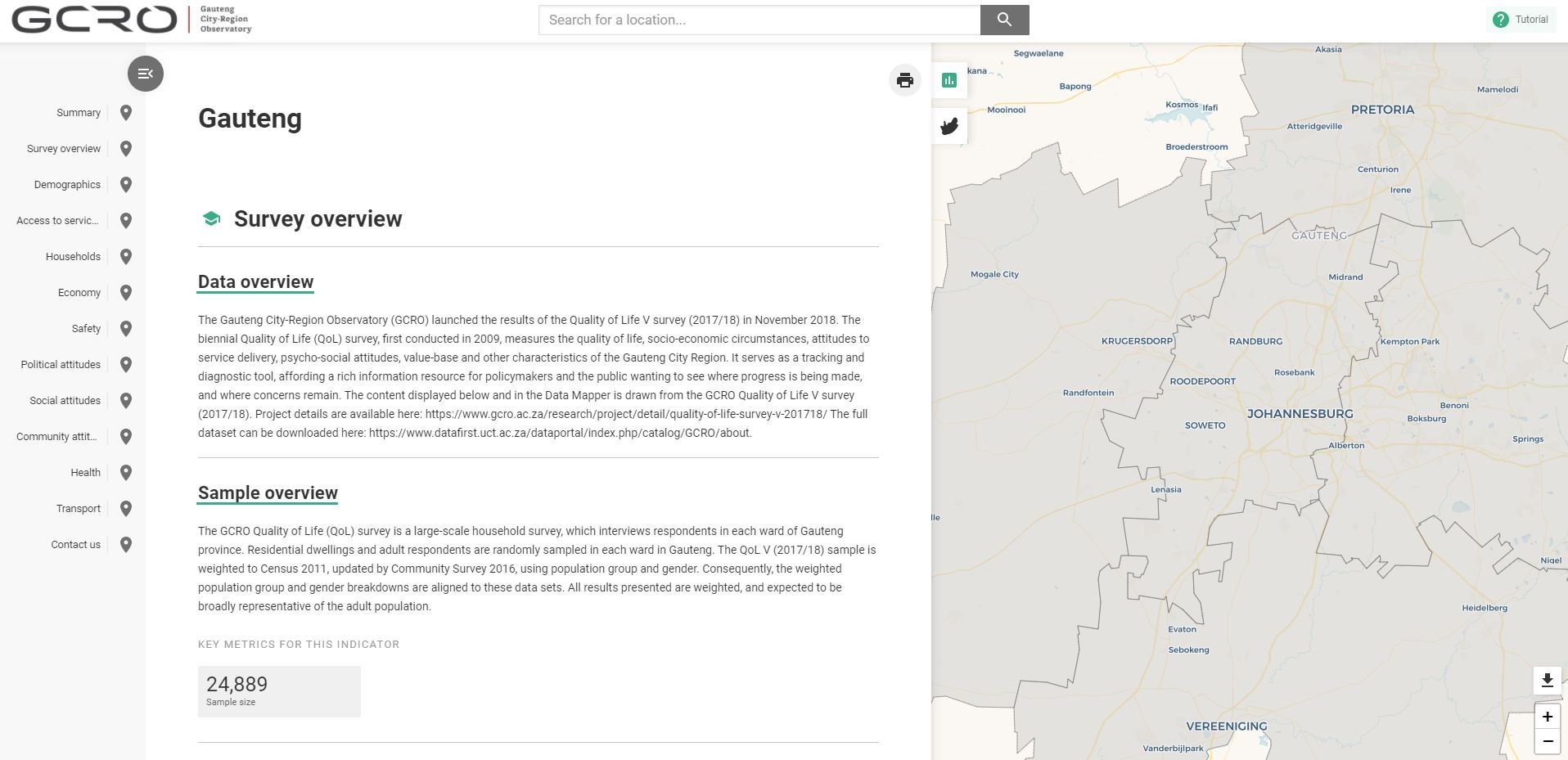 The Rich Data view will be open the first time you visit the QoL V (2017/18) viewer. It includes sections for Demographics, Access to services, Households, Economy, Safety, Political attitudes, Social attitudes, Community attitudes, Health, and Transport. Each section consists of further sub-sections where key variables and findings from the survey are highlighted, through key metrics and graphs. The graphs and the data 'behind' the graphs can be downloaded in various formats (JPEG, CSV, EXCEL, and JSON). The default results are for the entire Gauteng province, and based on all the respondents that participated in the QoL V (2017/18) survey. The results visible in this view changes when a different geography is selected in the Data Mapper view. For example, when selecting the City of Ekurhuleni, the data in the Rich Data view changes to represent only the results from respondents in the City of Ekurhuleni.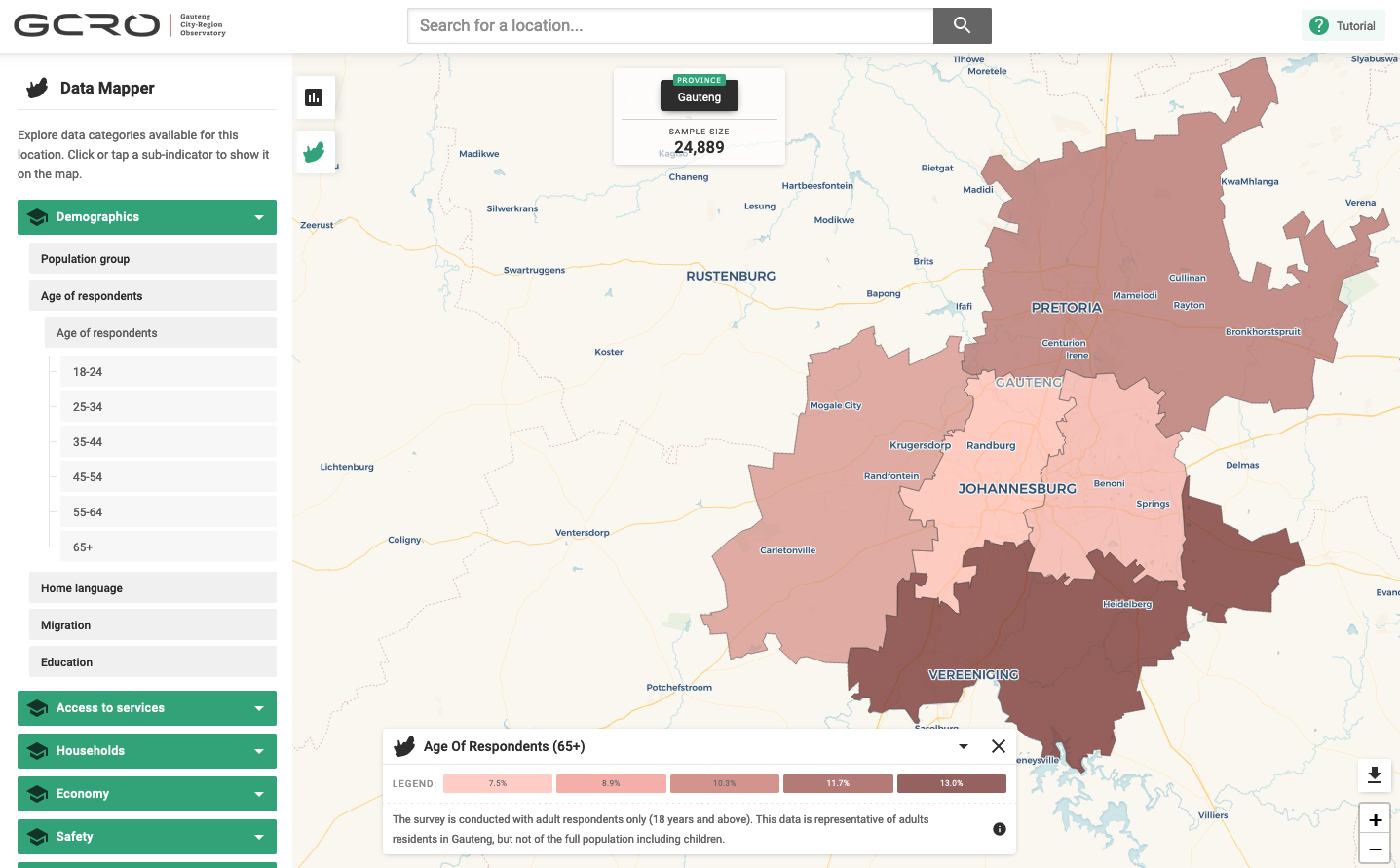 The Data Mapper view also defaults to the Gauteng province. Other local geographies can be selected by simply clicking on the area in the map. The QoL V (2017/18) viewer includes results at the Provincial, Metropolitan, District and Local municipality levels. Additionally, for the three Metropolitan municipalities (Ekurhuleni, Johannesburg and Tshwane), planning regions are included. Results can also be mapped at these various geographies by selecting a variable in the list of variables on the left of the page in the Data Mapper view.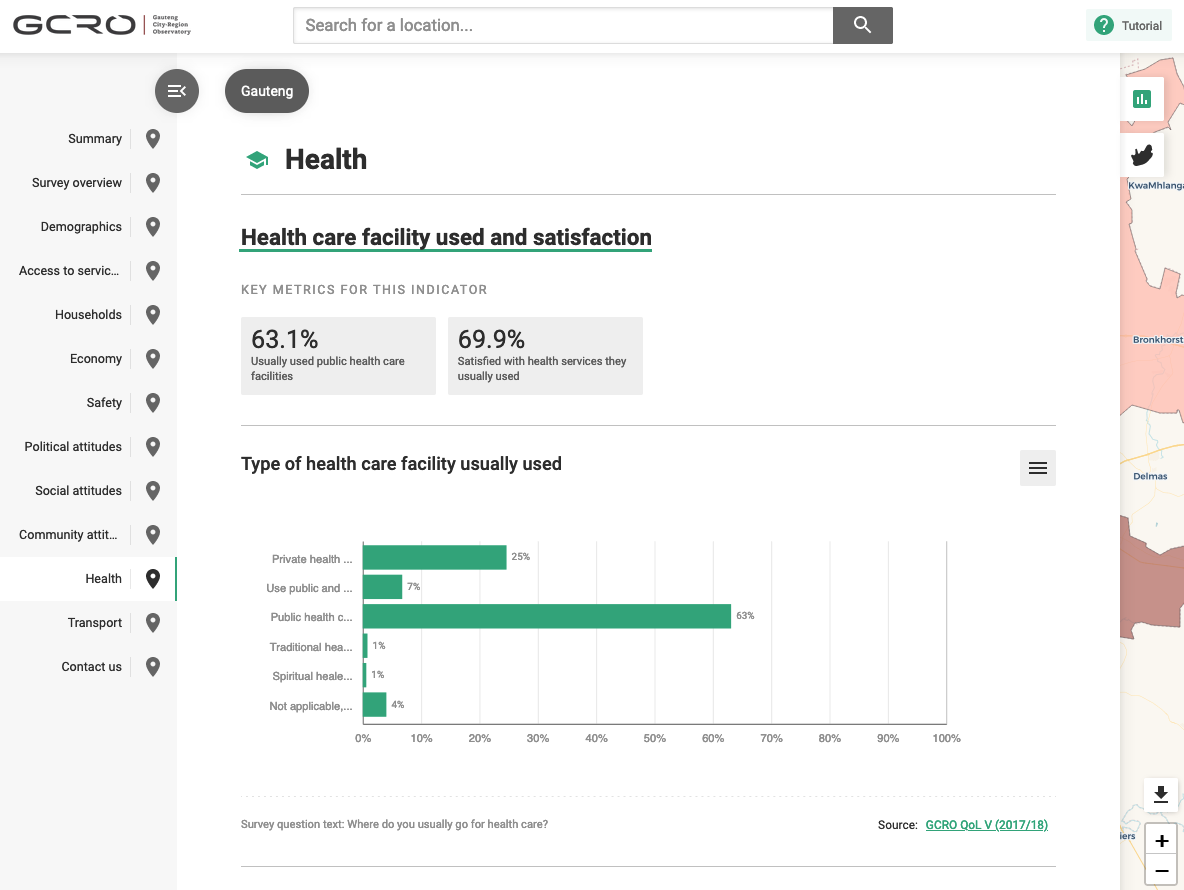 For data users who are keen to explore the full QoL V (2017/18) dataset in more detail, the full dataset as well as datasets for earlier iterations of the QoL survey is available for download from the DataFirst repository.
Questions and feedback about the QoL survey viewer are welcome and can be directed to info@gcro.ac.za